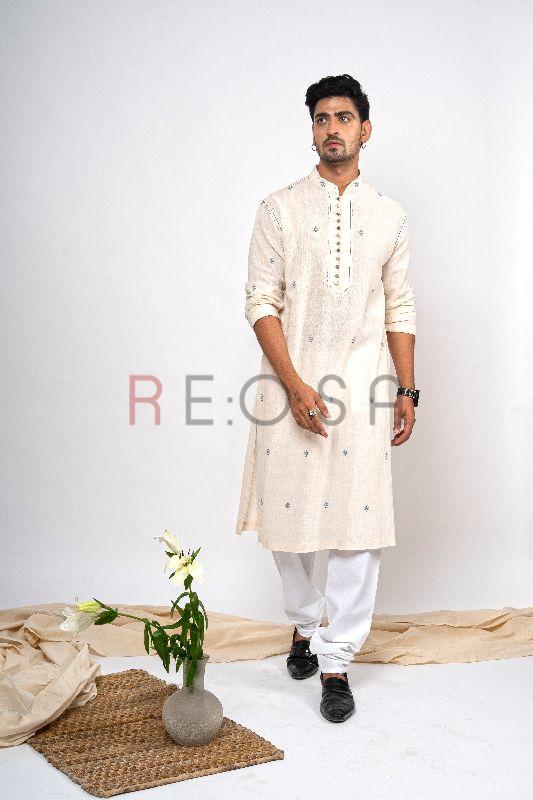 Hand woven fabrics are woven by hand, without the use of electricity. These fabrics are made for us in West Bengal, India, where men usually prefer wearing Mens Hand Woven Kurta. The Manufacturers have been making and exporting this kind of apparel for millennia. Want to learn more?
This guide is for you.


What is handwoven fabric?
Handwoven fabrics are constructed by hand using a handloom, which does not require electricity or produce any pollution. Furthermore, the lack of automation presents weavers with many more opportunities to reduce waste and engage in sustainable practices. This is why they make handwoven kurtas for men, which is a demand in latest fashion these days.


How is handwoven kurtas fabric made?
Warp threads are vertical yarns that form the length of the fabric. So, the warp yarns are seized in place on loom, while the weft threads are intertwined through them horizontally. The weft threads thus make up the width of the fabric. The weft threads increases from side to side to form what we call the hand woven textile. Weft threads can also be denoted to as the 'fill,' as strictly, they are used to weave the body of the fabric.


Mens Hand Woven Kurta Manufacturer take this a few steps further to make their handwoven fabrics even more environmentally friendly. Their process is dedicated to preserving the environment through natural energy, waste reduction, and water reduction. They have the best team of artisans who wash fabrics by hand in local waterways, dry them in the sun, and use any leftover pieces for other handicrafts or accessories.
Here are some of the concerns of keen men's handwoven kurta purchasers:


DO HANDWOVEN KURTAS SHRINK?
Men's handwoven kurtas are much more stable when shrinking than knitted fabrics. They do not react as severely to stresses. A small shrinkage is still possible, so we recommend using cold water and laying flat to dry if you're concerned about shrinking.


ARE HANDWOVEN KURTAS STRETCHY?
Synthetic-based knit fabrics are made from one continuous thread and stretch all over. In contrast, men's handwoven Kurtas only stretch diagonally, as said in the sewing world, on the bias, giving them enough flexibility and comfort while still feeling looking fitted.


ARE HANDWOVEN FABRICS COMFORTABLE?
Of course, comfort is obvious and largely depends on the materials used and the wearer's preferences. Many of the customers have commented on how soft and comfortable is the handwoven cotton fabrics used to make kurtas feel.


DO HANDWOVEN FABRICS ITCH?
This depends on your sensitivity and the materials being used, but handwoven kurtas are no itchier than any other fabrics. The handwoven kurta does not itch. Handwoven fabrics also breathe much better than polyester and other synthetic fabrics, making them more comfortable.


Plain Hand-Woven Fabric
Plain weave woven fabric is for clothes. Its simple and plain criss-cross weave is manufactured to be durable and long-lasting. At the same time, different thread strengths can be used to enhance resilience.


The leading men handwoven kurta manufacturers supply all fashions of kurtas in different handwoven fabrics is different sizes and prices.